Mountains in Yunnan Province are beautiful, in which the most beautiful one is Yulong Snow Mountain.
Waters in Yunnan Province are beautiful, in which the most beautiful one is Black Dragon Pool.
Stones in Yunnan Province are beautiful, in which the most beautiful one is the Stone Forest.
Trees in Yunnan Province are beautiful, in which the most beautiful one is the Tropical Rain Forest.
Birds in Yunnan Province are beautiful, in which the most beautiful one is Peafowl.
Songs in Yunnan Province are beautiful, in which the most beautiful one are songs in Yunnan Reflections.
Dances in Yunnan Province are beautiful, in which the most beautiful one are dances in Yunnan Reflections.
Beautiful scenery in Yunnan Province are countless, which will always be fixed in my memory because it is an original ecology and the best embodiment of harmonious co-existence between man and nature.
1. Xishuangbanna---an ideal and magical paradise
Xishuangbanna, whose name is "Mengbalanaxi" in ancient Dai language with meaning of "ideal and magical paradise", is famous for the magical tropical rain forest natural landscape and minority folk-custom in the world, and is one of the hot tourism cities in China. The annual Water-Sprinkling Festival held in April 13 ~ 15 have attracted numerous tourists at home and abroad, which is known as "Orient Carnival".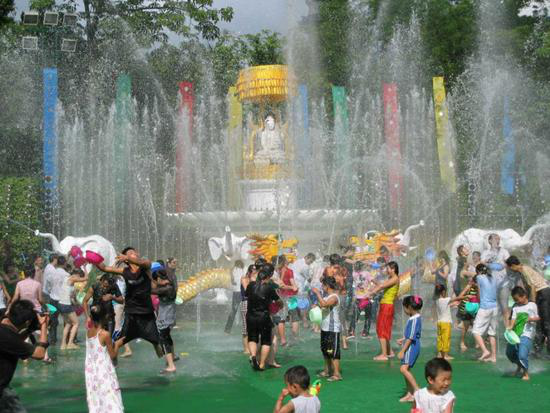 2. Baoshang Tengchong City---cloudy and misty Huanglong jade
Tourists can't help imaging that body dips in hot spring water and starts to sign and indulge in self-delusion when the plane breaks dense fog and land at Tengchong County. Or cast a glance at the lover around affectionately, just like gaze the shadowy water plants in Huanglong jade from Longling County. Tengchong is hot in tourism, and Huanglong jade is hotter. Jade is invaluable, let alone beautiful girls.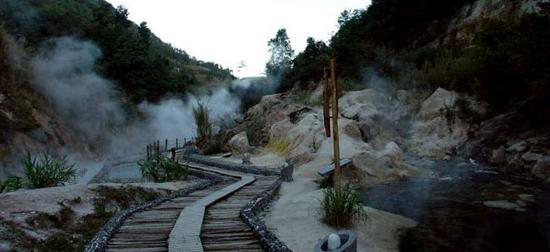 3. Lijiang City---paradise for romance
Lijiang, a yearning place for numerous people, an ideal place with a name of "Paradise for romance", has attracted numerous youths, lovelorn people and relaxed tourists. Thousands of years made this ancient stone path become mellow, smooth and clean, and path has witnessed numerous bustling tourists coming and leaving in calm expression. Clear water is running in a narrow and small river. It is said that the water is from Yulong Snow Mountain. The water is so clear that water plants at the bottom can be seen easily; soft water plants fluctuate and sway with the flow like pleasant dance; colorful river carps play in the river and swim against the current like a skiff in torrent.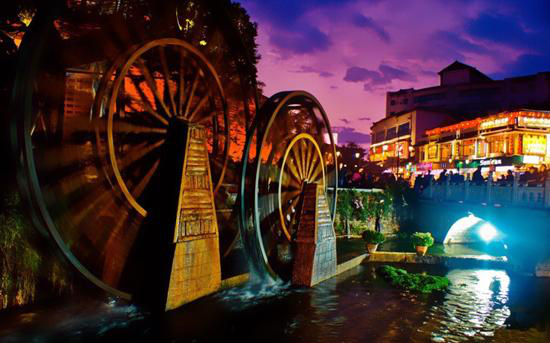 4. Qujing City---golden sea of rape flowers
Qujing is an origin place for ancient Cuan Culture, a minority in China, which has dense minority folk custom and beautiful natural landscape. Rape flower in Luoping County, colorful sand forest in Luliang County and other scenic spots are fully-featured, which have attracted many amateur photographers to take photos. Photographers can visit Luoping on March and spend 2 days for viewing. If tourists want to visit other places in Qujing, it will take about 5 days.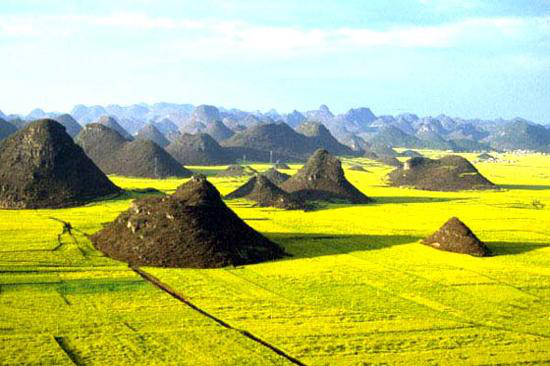 5. Yuxi City---beautiful Moon Bay Wetland Park
For Yuxi, where four seasons like spring have a clear dry and wet season, it's windy and dry and less rainfalls in spring and winter. Temperature and climate are mild in summer and autumn, which is suitable for travelling outside. Driving from Chengjiang County about 7 minutes, tourists can reach Angsana Fuxian Lake Hotel, and the hotel has a park and an artificial beach, which is very suitable for holiday. Management of the hotel is pretty good, and the facilities in hotel are also complete. The hotel has main building area and villa area, in which the Moon Bay Wetland Park is very beautiful.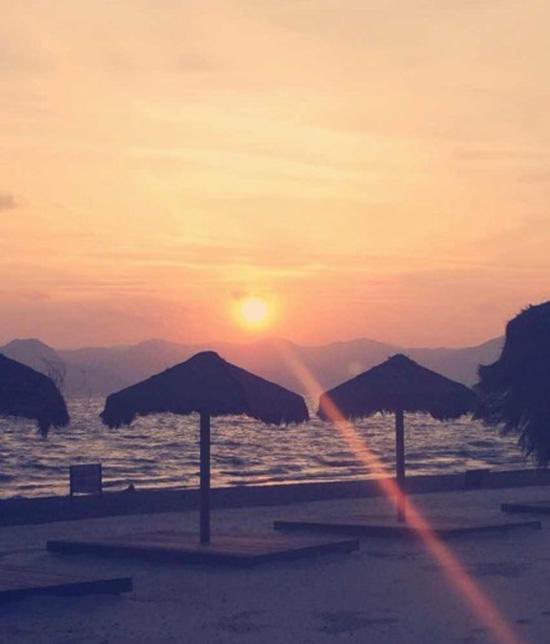 6. Dali---the most representative famous culture state in southwest
Landscape in Dali is a picture of "wind, flower, snow and moon -- romantic themes", and its cultural landscape records vicissitudes of a nation. Tourists can raft in the Erhai Lake to feel boundless space of heaven and earth; visit a holy land---Jizu Mountain to listen to the Buddhist sound croon and watch the Buddha light; find the frozen history in rock caves in Shibao Mountain; use your heart to feel the romance of the ancient town. Besides, you can feel the elegance of Dali under sunset and pursue the showy of modern in beautiful night. The semi Gods and semi Devils from Jin Yong's novel has been made into TV for many times, the Tianlong Babu Studio City in Dali, the exquisite chessboard on Cangshan Mountain and the portrait of fairy sister in Tianlong Cave can be found in those classic screens.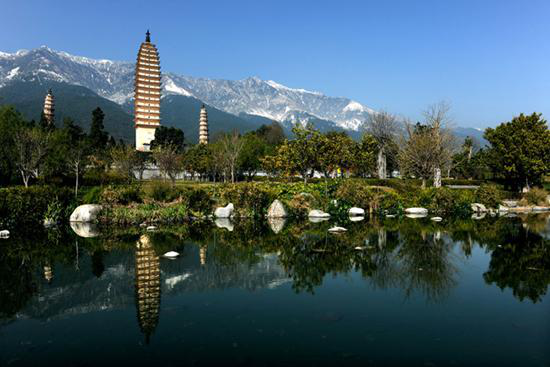 7. Nujiang River---natural wonder of high mountains and deep gorges
Some mountains in south-north trend centralizing on the plateau next to northwest of Yunnan Province and east of Tibet are Hengduan Mou[FS:Page]ntain Chain; three rivers flow in the mountains to the same direction, i.e. Nujiang River, Lantsang River and Jinsha River, and it is the famous "three parallel rivers". These mountains and rivers have formed = natural wonder of high mountains and deep gorges on this land.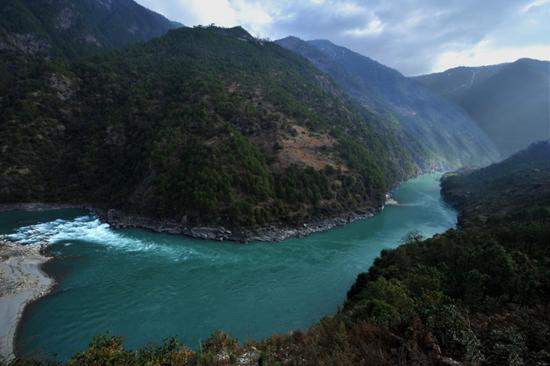 8. Diqing---a place of good luck
Diqing Tibetan autonomous prefecture, which means "a place of good luck" in Tibetan language, is the only Tibetan autonomous prefecture in Yunnan Province. Diqing has hundreds of valuable and rare kinds of trees, hundreds of traditional Chinese medicines, wild flowers 1060 families 312 genera1578 kinds and countless rare animals. Yunnan snub-nosed monkey, the second rare animal in China, covers 58% in the world's total amount. Shangri-La presents an elegant and unsurpassed masterpiece of harmony between man and nature to the world. Contribution of Tibetan on human culture shows in the courteous cultural implication to nature, such as modesty of a dutiful son.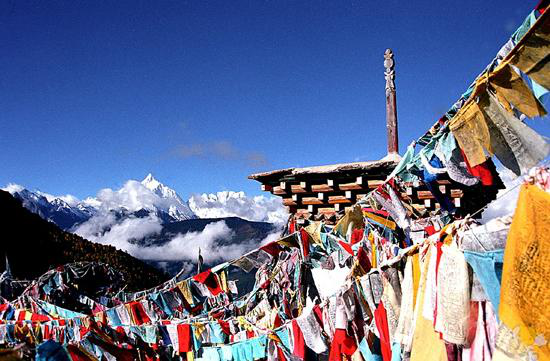 9. Wenshan Prefecture---Southeast Gate of Yunnan
Wenshan Zhuang and Miao autonomous prefecture is located at the southeast of Yunnan Province, bordering on Vietnam, comprising 8 counties, whose prefecture is in Wenshan City. Wenshan enjoys a title of "Southeast Gate of Yunnan". If you compare Wenshan County to a beauty in South, the winding Panlong River is a necklace of the beauty, and numerous bridges is the diamond pins on the necklace, shinning and sparkling. Wenshan has an isolated and superior disposition. Green mountains, clear waters, sunset, white wall and grey tiles, tourists need to experience such a quiet and peaceful land. Wenshan is waiting for your coming quietly at a distance.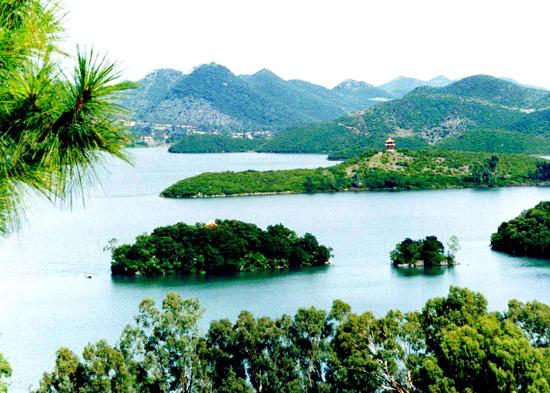 10. Honghe County---Honghe Hani rice terraces
Honghe Hani Rice Terrace Culture Scenic Spot in Yunnan China has been authorized to list in the World Heritage List on 37th UNESCO world heritage committee held at Phnom Penb of Cambodia on June 22, 2013. Honghe Hani Rice Terrace is the fifth world heritage in Yunnan Province, and the other four scenic spots are Ancient Town of Lijiang, Three Parallel Rivers, Stone Forest Karst Landscape and Chengjiang Maotianshan Mountain. The specialty in Honghe includes small mango, Arrowroot powder and small cattle jerky etc.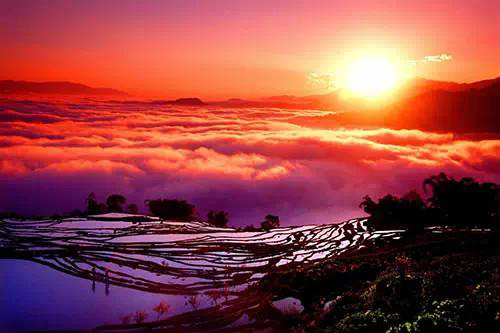 11. Zhaotong City--- key of South Yunnan, throat of West Sichuan
Zhaotong City is located at the northeast of Yunnan Province, which has typical mountain tectonic landform, with high mountains and deep gorges and big altitude gap. The unique terrain in Zhaotong has formed Dashanbao, Huanglianhe River, Tongluoba, Xiaocaoba and other distinct natural landscape and amazing scenery. Zhaotong is also a historic city with abundant cultural heritages, and there are more than 20 Neolithic relics in the city. Zhaotong has many animals and plants under the state protection of first class, and abundant plants and water resources.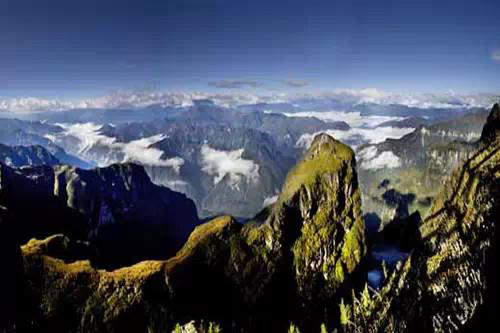 12. Chuxiong City---North Gate to enter into Sichuan in Yunnan
Chuxiong is located in central Yunnan, which is an important joint point in golden travel line to link Kunming with Dali, Lijiang, Shangri-La and Tengchong at the west and northwest of Yunnan, and also the North Gate to enter into Sichuan in Yunnan. Chuxiong is a mysterious and ancient land, in which the Lvfeng dinosaur, Ramapithecus, Homo erectus yuanmoensis, October in solar calendar in Yi ethnic group, Wanjiaba bronze drum and so on are famous in the world. Chuxiong Yi ethnic group autonomous prefecture has a long history, brilliant culture, beautiful mountains and rich and colorful natural tourism resources, and the Yishan Mountain has created the great and profound culture and gorgeous folk custom of Yi ethnic group.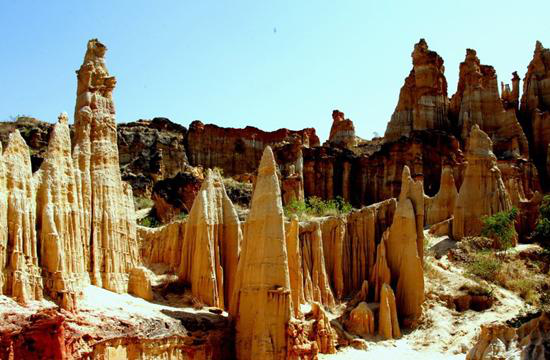 13. Lincang City---faint and secret land
Dense black hair of girls of Va ethnic group
Swinging
Swinging
Yunnan people call dining as "swinging meal"
Va ethnic group has beautiful skin, which can be compared with south Asia people.
You can take a look at Cangyuan and Shuangjiang if you doubt.
College students from Zhejiang Province
Love to stay in Lincang and don't miss Jiangnan region.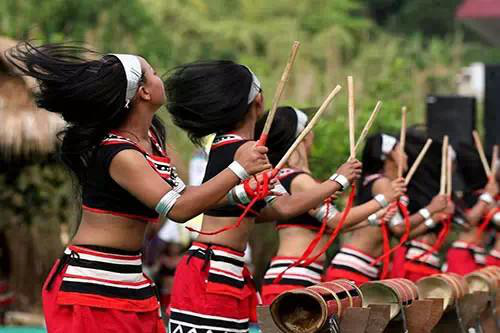 14. Pu'er City---Pu'er tea still sends off fragrance
People in Pu'er are warm
People in Pu'er are hospitable
People in Pu'er are really easygoing
Tourists visiting Xishuangbanna
Please come to Pu'er for viewing
It's a good place with green mountains and clear waters!
The most delicious wild mushroom that I ate
Is the great red mushroom in Pu'er.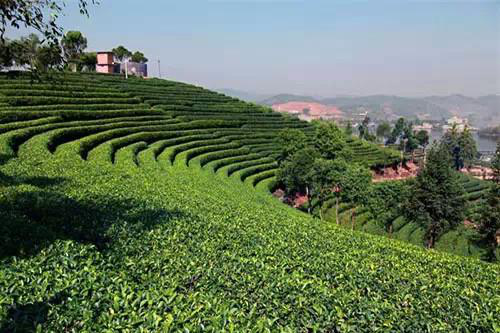 15. Dehong---clear Shweli River
The border town, close to Burma, is an origin place of Ancient Meng Mao, an important passage of Silk Road in ancient in the southern and an important centre collecting and distributing jewelry in Southeast Asia. This city is rewarded and respected for [FS:Page]thousands of years due to its special geography location and multi component ethnic culture. Colorful exotic customs, mysterious and beautiful tropical rain forest, famous cultural town---Wanding Town and other charming scenic spots in Dehong are waiting for tourists…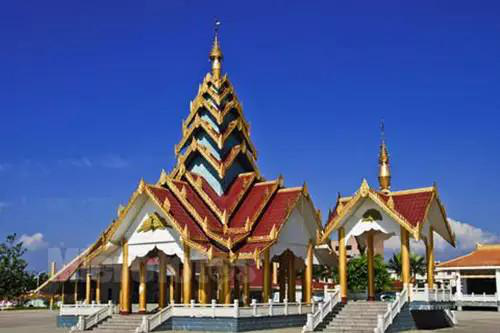 16. Can't remember who is missing? --- Oh, Kunming
A great reputation
Pleasant climate
When to appear again
Three thousands of hectares of glittering water, numerous mountains embracing the ancient town.
Flowers are always in full bloom in all seasons, it is Kunming set off by the moon in the spring.