So far, Yunnan obtains 5 world heritages as: Lijiang Ancient Town, the Three Parallel Rivers, the Stone Forest, the Fossil Group of Maotianshan Mt. in Chengjiang, and the Hani Terrace Fields in Honghe.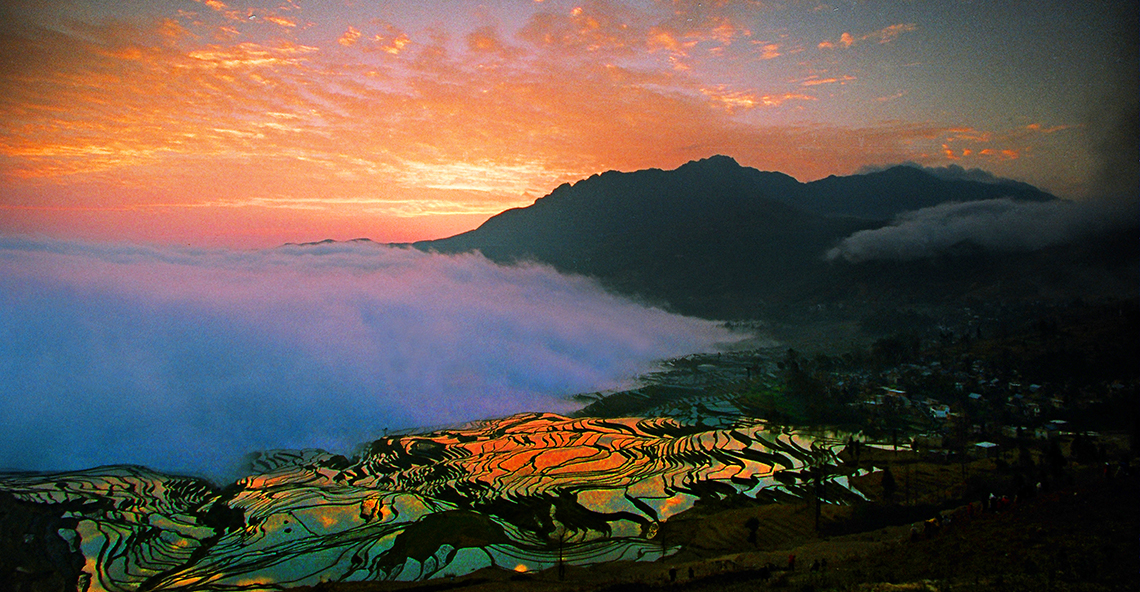 The Stone Forest
As the hometown of Ashima, the Stone Forest(Shilin) is well known for the ethnic epic and the Torch Festival. The Stone Forest is honored as the Global Wonder of the Best, it's a gem of the world's geology which won the titles of natural heritage, world geological park, national AAAAA class tourist attractions, etc., is renowned in China and abroad as the tourist destination.
The
Fossil Group of Maotianshan Mt. in Chengjiang
Referring to the Chengjiang Fossils. The fossils of 5.3 million years ago contain more than 200 kinds rare animal fossils of Early Cambrian, which is known as the international scientific community "Paleontology Haram""Paleontology Fossil Locality "" World Class Fossil Treasure House" and the most amazing founding of the twentieth century.
The
Hani Terrace Fields in Honghe
Located in Yuanyang County of Yunnan Province in the southern region of Ailaoshan Mt., it's the masterpiece of the Hani generations. Yuanyang terraced field has a large-scale, magnificent, stretching the southern bank of Hong river in Honghe, Yuanyang, Luchun and Jinping. Yuanyang County has 17 million acres of terraced fields, it's the core area of Hani terraced fields.
Lijiang Ancient Town
Founded in the early stage of the Song Dynasty, Lijiang Ancient Town is the fort along "Southern Silk Road" and the tea-horse road. The Ancient Town taking the Yangtze River and the Tiger Leaping Gorge as barriers, and the Yulong Snow Mountain as the background, flowing water as its spirit. The mountains and water, water and living environment are organically combined together perfectly. It is the Naxi cultural crystallization of Dongba Characteristics, the rare cultural heritage of Chinese nation and the world.
The Three Parallel Rivers
The three rivers originated from the Tibetan Plateau, running through mountains in Yunnan. Located in Lijiang, Diqing, and Nujiang, with a whole area of forty thousand square kilometers. Jinsha River by the town of Shigu (knwon as the very first bay along Changjiang River), urgently goes back to the East and eventually flows into the Pacific Ocean, and Lancang River, Nu River flow through Myanmar, Vietnam, Laos, Thailand and eventually flows into the Indian Ocean. It's the world's only remaining land of purity and innocent.